The Experts and the Experts!! Try a Little Common Sense

Stouffville missed a wonderful opportunity to have a first class Walking, Bicycle,Running Trail Entrance to our Town which upheld our Sec. Plan Vision of a Small Country Town when Council allowed this Beautiful Healthy Treed Farmlane to be Destroyed. It's time to get the Experts out of the mix and have Citizen input before We loss it all.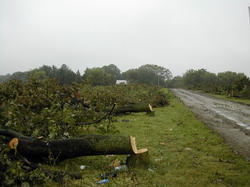 definitely Healthy! Once!
Apparently they were foreigners and of poor quality . or ,lets face it they were just in the way. These planners prefer a blank piece of paper ,simple ,no imagination! Will we be able to grow trees ??? These new subdivisions have 3 inches of topsoil (it takes 150years to make 1 centimetre of topsoil and we are losing inches every year to erosion and monoculture .Those mounts you see in the developments Top soil exposed and dead and blowing in the wind) on compacted earth which hinders roots and doesn't allow moisture retention. You can't even find worms on those lawns!
We are Caking and Baking the surface of the Earth
How can we fight this way of thinking??
Their consultants consulted with our consultants . Everybody did everything according to protocul .They used the York Region Tree-cutting By-law (We don't have one!!) We do have directives in our Sec Plan . which say, in English ,protect and incorporate our Treed Farmlanes (and Hedgerows etc) because we want the distinct country character they offer. No body did anything wrong. NOBODY DID ANYTHING RIGHT!!
Where was the Mayor? When contacted she expressed horror and stated that she is 'working diligently (to cover her butt) with the developers to ensure developent is in accordance with the directives of the Sec. Plan" (which ones the ones for them or the ones for us??) Unfortunately Actions speak Louder than words Truely Unfortunately