MATTERS for DISCUSSION
.
Official SECONDARY PLAN,impact of proposed DEVELOPMENTS,TRAFFIC congestion,QUALITY OF LIFE issues,preserving HERITAGE sites,lack of CULTURAL FACILITIES,the MAYOR'S ROLE,influence of the developers,FUTURE of Downtown Core,the THEATRE,the town PARK,the OutDoor POOL,LawnBowling,the loss of Grade A FARMLAND,the fate of the Stouffville Creek Corridor,our WOODS and WILDLIFE,the Imminent Threat to our Water Suppy ,the use of Salt and pesticides,..your concerns are our concerns...

HYDRO ONE SUING TOWN JULY 27,03 (NOT THE ONLY ONE THINKING ABOUT SUING THE TOWN!)

Town Hall TheatreLeaps Important Hurdle in Quest for Life June 15,2004

The Rape of the Land is about to commence as Lebovic( 9th-10th south)and Mattamy(9th-48 south) get the Go Ahead (3,000homes) (even though the Pipe isn't here yet) ( The Planners have already spent all those Development Charges)
What the Planning Dept didn't want us to see! (And that aint the Half of it!)Many people asked but were informed that if they wanted to know what was going on they would have to take time off work and come to the Planning Dept between 8:30 and 4:30. When a similiar display board was prepared by the Save Our Town Committee for display at the Public Library they were informed that there was no need because all the information was available in large binders that would take hours to read through and figure out! Who are these people working for?
The original template supplied by this site didn't allow for BOLD ITALIZE or UNDERLining..hence the use of CAPITALS for emphasis..if you find any mistakes in the information content please feel free to advise us. This is not a resume, it is a statement.(based on fact)..we are not concerned about form so much as content ..we are here to inform you about matters which affect us all and about which we should have control of..
MORE at Stouffville.freeservers.com
Check out our sister site for Maps of Pickering Airport and Discussions on Water Issues etc at http://stouffville .freeservers.com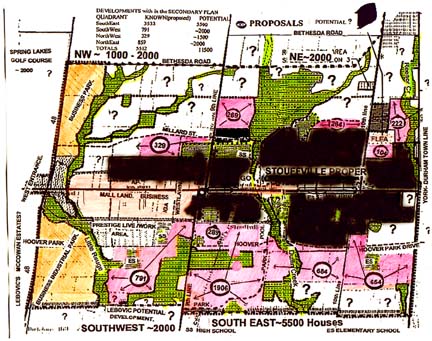 They're fixing to Wall us in!(check The Big PicturePage ,@Stouffvillefreeservers.com)
.The little country town of Stouffville is going to disappear under a mass of concrete and asphalt, brick and steel,with toxic lawns,salt and chemical cleaners to kill our streams,pollute our air,suffocate our forests..they're going to wall us in better then any prison wall could..
!
Send an email to concerned@stouffville.org